120v outlet (if so equipped)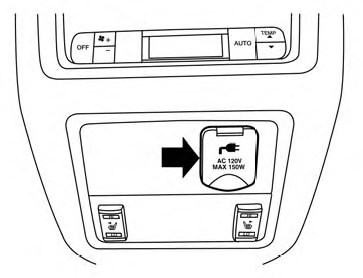 2nd Row
CAUTION
● The outlet and plug may be hot during or immediately after use.
● Use power outlets with the engine running to avoid discharging the vehicle battery.
● Do not use double adaptors or more than one electrical accessory.
● Avoid using power outlets when the air conditioner, headlights or rear window defroster is on.
● Before inserting or disconnecting a plug, be sure the electrical accessory being used is turned OFF.
● Push the plug in as far as it will go. If good contact is not made, the plug may overheat or the internal temperature fuse may open.
● When not in use, be sure to close the cap. Do not allow water or any other liquid to contact the outlet.
See also:
BSW driving situations
Another vehicle approaching from behind The Blind Spot Indicator light illuminates if a vehicle enters the detection zone from behind in an adjacent lane. However, if the overtaking vehicle is ...
Power liftgate main switch
The power liftgate operation can be turned on or off by the power liftgate main switch on the instrument panel. When the power liftgate main switch is pushed to the OFF position, the power ope ...
Car phone or CB radio
When installing a car phone or a CB radio in your vehicle, be sure to observe the following cautions, otherwise the new equipment may adversely affect the electronic control modules and electronic ...