Sunglasses holder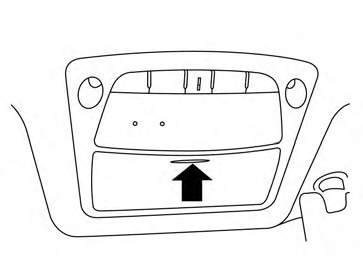 To open the sunglasses holder, push and release 1 .
Only store one pair of sunglasses in the holder.
WARNING
Keep the sunglasses holder closed while driving to prevent an accident.
CAUTION
● Do not use for anything other than sunglasses.
● Do not leave sunglasses in the sunglasses holder while parking in direct sunlight. The heat may damage the sunglasses.
See also:
Tire Pressure Monitoring System (TPMS)
This vehicle is equipped with the Tire Pressure Monitoring System (TPMS). It monitors tire pressure of all tires except the spare. When the low tire pressure warning light is lit, and the CHECK TI ...
Tow mode switch
Tow mode should be used when pulling a heavy trailer or hauling a heavy load. Driving the vehicle in the tow mode with no trailer/load or light trailer/light load will not cause any damage. Howev ...
Underbody
In areas where road salt is used in winter, it is necessary to clean the underbody regularly in order to prevent dirt and salt from building up and causing the acceleration of corrosion on the unde ...