Checking engine oil level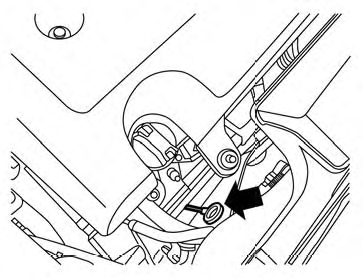 1. Park the vehicle on a level surface and apply the parking brake.
2. Start the engine and let it idle until it reaches operating temperature.
3. Turn off the engine. Wait more than 10 minutes for the oil to drain back into the oil pan.
4. Remove the dipstick and wipe it clean. Reinsert it all the way.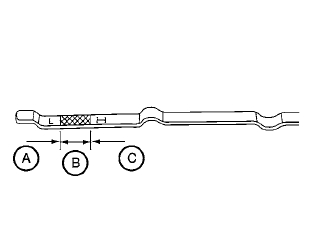 5. Remove the dipstick again and check the oil level. It should be between the H (High) and L (Low) marks B . This is the normal operating oil level range. If the oil level is below the L (Low) mark A , remove the oil filler cap and pour recommended oil through the opening. Do not overfill C .
6. Recheck oil level with the dipstick.
It is normal to add some oil between oil maintenance intervals or during the break-in period, depending on the severity of operating conditions.
CAUTION
Oil level should be checked regularly. Operating the engine with an insufficient amount of oil can damage the engine, and such damage is not covered by warranty.
See also:
How to use the NISSAN controller
Use the NISSAN controller to choose an item on the display screen. Highlight an item on the display using the main directional buttons 2 (certain Navigation System functions use the additional dir ...
Air fresheners
Most air fresheners use a solvent that could affect the vehicle interior. If you use an air freshener, take the following precautions: • Hanging-type air fresheners can cause permanent discolo ...
Heated steering wheel (if so equipped)
The heated steering wheel system is designed to operate only when the surface temperature of the steering wheel is below 688F (208C). Push the heated steering wheel switch to warm the steering ...