Intelligent Key system
The Intelligent Key system can operate the ignition switch without taking the Intelligent Key out from your pocket or purse. The operating environment and/or conditions may affect the Intelligent Key system operation.
CAUTION
• Be sure to carry the Intelligent Key with you when operating the vehicle.
• Never leave the Intelligent Key inside the vehicle when you leave the vehicle.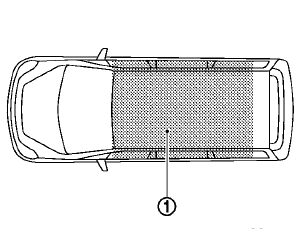 Operating range for engine start function
The Intelligent Key functions can only be used for starting the engine when the Intelligent Key is within the specified operating range 1 .
When the Intelligent Key battery is almost discharged or strong radio waves are present near the operating location, the Intelligent Key system's operating range becomes narrower and may not function properly.
If the Intelligent Key is within the operating range, it is possible for anyone, even someone who does not carry the Intelligent Key, to push the ignition switch to start the engine.
• The cargo/trunk area is not included in the operating range, but the Intelligent Key may function.
• If the Intelligent Key is placed on the instrument panel, rear parcel shelf, inside the glove box or door pocket, the Intelligent Key may not function.
• If the Intelligent Key is placed near the door or window outside the vehicle, the Intelligent Key may function.
See also:
Changing wheels and tires
Tire rotation NISSAN recommends rotating the tires every 7,500 miles (12,000 km). See "Flat tire" in the "In case of emergency" section of this manual for tire replacing procedures. ...
Starting the engine
1. Apply the parking brake. 2. Move the shift selector to P (Park) or N (Neutral). P (Park) is recommended. The starter is designed not to operate if the shift selector is in any of the driving p ...
12v outlets
Instrument Panel The power outlets are for powering electrical accessories such as cellular telephones. They are rated at 12 volt, 120W (10A) maximum. The front and center console power outlet ...