Window washer fluid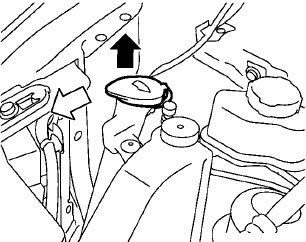 Fill the window washer fluid reservoir periodically.
Add window washer fluid when the low window washer fluid warning appears on the dot matrix liquid crystal display.
To fill the window washer fluid reservoir, lift the cap and pour the window washer fluid into the reservoir opening.
Add a washer solvent to the water for better cleaning. In the winter season, add a windshield washer antifreeze. Follow the manufacturer's instructions for the mixture ratio.
Refill the reservoir more frequently when driving conditions require an increased amount of window washer fluid.
Recommended fluid: Genuine NISSAN Windshield Washer Concentrate Cleaner & Antifreeze or equivalent
CAUTION
• Do not substitute engine anti-freeze coolant for window washer solution.
This may result in damage to the paint.
• Do not fill the window washer reservoir tank with washer fluid concentrates at full strength. Some methyl alcohol based washer fluid concentrates may permanently stain the grille if spilled while filling the window washer reservoir tank.
• Pre-mix washer fluid concentrates with water to the manufacturer's recommended levels before pouring the fluid into the window washer reservoir tank. Do not use the window washer reservoir tank to mix the washer fluid concentrate and water
See also:
Fuel efficient driving tips
Follow these easy-to-use Fuel Efficient Driving Tips to help you achieve the most fuel economy from your vehicle. 1. Use smooth accelerator and brake pedal application. • Avoid rapid starts ...
Intelligent Key system
WARNING • Radio waves could adversely affect electric medical equipment. Those who use a pacemaker should contact the electric medical equipment manufacturer for the possible influences before ...
Tachometer
The tachometer indicates engine speed in revolutions per minute (rpm). Do not rev engine into the red zone 1 . CAUTION When engine speed approaches the red zone, reduce engine speed. Operating ...