Vehicle identification
Vehicle Identification Number (VIN) plate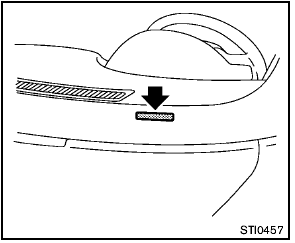 The vehicle identification number plate is attached as shown. This number is the identification for your vehicle and is used in the vehicle registration.
Vehicle identification number (chassis number)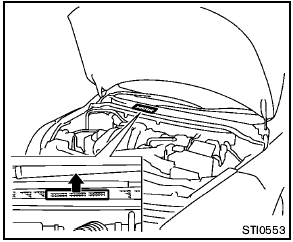 The vehicle identification number is located as shown.
Remove the cover to access the number.
Engine serial number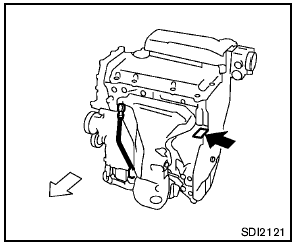 The number is stamped on the engine as shown.
F.M.V.S.S./C.M.V.S.S. certification label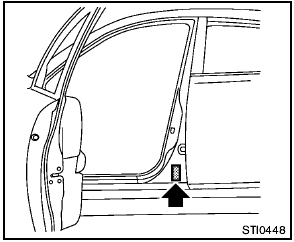 The Federal/Canadian Motor Vehicle Safety Standards (F.M.V.S.S./C.M.V.S.S.) certification label is affixed as shown. This label contains valuable vehicle information, such as: Gross Vehicle Weight Ratings (GVWR), Gross Axle Weight Rating (GAWR), month and year of manufacture, Vehicle Identification Number (VIN), etc. Review it carefully.
Emission control information label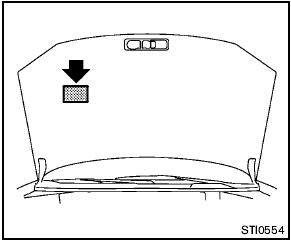 The emission control information label is attached to the underside of the hood as shown.
Tire and loading information label
The cold tire pressure is shown on the Tire and Loading Information label affixed to the pillar as illustrated.
Air conditioner specification label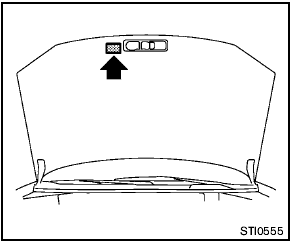 The air conditioner specification label is attached to the underside of the hood as shown.
See also:
Troubleshooting guide
The system should respond correctly to all voice commands without difficulty. If problems are encountered, try the following solutions. Where the solutions are listed by number, try each solution ...
Treadwear
The treadwear grade is a comparative rating based on the wear rate of the tire when tested under controlled conditions on a specified government test course. For example, a tire graded 150 would w ...
Windshield-washer fluid
Windshield-washer fluid reservoir Fill the windshield-washer fluid reservoir periodically. Add windshield-washer fluid when the low windshield-washer fluid warning light comes on. To fill th ...