Power outlet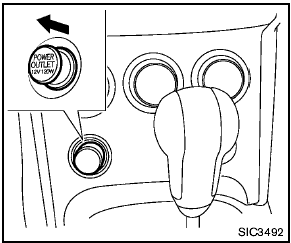 Instrument panel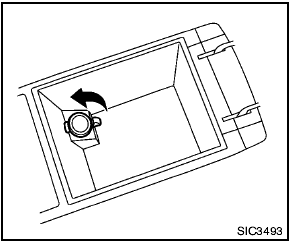 Center console (if so equipped)
The power outlet is located in the instrument panel and the center console (if so equipped).
- The outlet and plug may be hot during or immediately after use.
- Do not use with accessories that exceed a 12 volt, 120W (10A) power draw. Do not use double adapters or more than one electrical accessory.
- Use power outlet with the engine running to avoid discharging the vehicle battery.
- Avoid using power outlet when the air conditioner, headlights or rear window defroster is on.
- This power outlet is not designed for use with a cigarette lighter unit.
- Push the plug in as far as it will go.
If good contact is not made, the plug may overheat or the internal temperature fuse may open.
- Before inserting or disconnecting a plug, be sure the electrical accessory being used is turned OFF.
- When not in use, be sure to close the cap. Do not allow water to contact the outlet.
See also:
Trip computer
Switches for the trip computer are located on the right side of the combination meter panel. To operate the trip computer, push the side or front of the switches as shown above. A switch B s ...
Cleaning the seat tracks
CAUTION Periodically clean the seat tracks to prevent reduction of ability to move the seats. Clean periodically with a high-powered vacuum cleaner. Dirt and debris may reduce the ability to adju ...
Where to go for service
If maintenance service is required or your vehicle appears to malfunction, have the systems checked and serviced by a NISSAN dealer. NISSAN technicians are well-trained specialists and are kept ...