Checking engine oil leve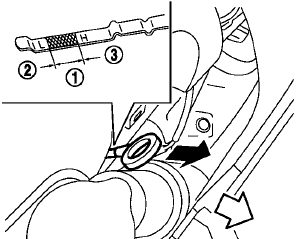 1. Park the vehicle on a level surface and apply the parking brake.
2. Run the engine until it reaches operating temperature.
3. Turn off the engine. Wait more than 10 minutes for the oil to drain back into the oil pan.
4. Remove the dipstick and wipe it clean.
Reinsert it all the way.
5. Remove the dipstick again and check the oil level. It should be within the range1 . If the oil level is below2 , remove the oil filler cap and pour recommended oil through the opening. Do not overfill3 .
6. Recheck oil level with the dipstick.
CAUTION
Oil level should be checked regularly.
Operating the engine with an insufficient amount of oil can damage the engine, and such damage is not covered by the warranty.
See also:
Foreword
Welcome to the growing family of new NISSAN owners. This vehicle is delivered to you with confidence. It was produced using the latest techniques and strict quality control. This manual was prepa ...
Tire chains
Use of tire chains may be prohibited according to location. Check the local laws before installing tire chains. When installing tire chains, make sure they are the proper size for the tires on your ...
Panoramic sunshade (if so equipped)
The panoramic sunshade operates when the ignition switch is in the ON position. The sunshade switch is located near the roof console. When opening or closing the sunshade the switch need not be ...