Push-button ignition switch operation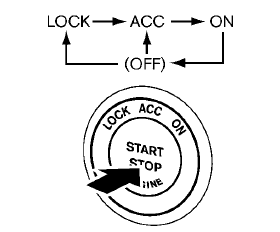 When the ignition switch is pushed without depressing the brake pedal, the ignition switch position will change as follows:
• Push center once to change to ACC.
• Push center two times to change to ON.
• Push center three times to change to OFF.
(No position illuminates.)
• Push center four times to return to ACC.
• Open or close any door to return to LOCK during the OFF position.
The ignition lock is designed so that the ignition switch position cannot be switched to LOCK until the shift lever is moved to the P (Park) position.
When the ignition switch cannot be pushed toward the LOCK position, proceed as follows:
1. Move the shift lever into the P (Park) position.
2. Push the ignition switch to the OFF position.
(The ignition switch position indicator will not illuminate.)
3. Open the door. The ignition switch will change to the LOCK position.
The shift lever can be moved from the P (Park) position if the ignition switch is in the ON position and the brake pedal is depressed.
If the battery of the vehicle is discharged, the push-button ignition switch cannot be turned from the LOCK position.
Some indicators and warnings for operation are displayed on the dot matrix liquid crystal display between the speedometer and tachometer. (See "Dot matrix liquid crystal display" in the "2.
Instruments and controls" section.)
See also:
Maximum Gross Vehicle Weight (GVW)/maximum Gross Axle Weight (GAW)
The GVW of the towing vehicle must not exceed the Gross Vehicle Weight Rating (GVWR) shown on the F.M.V.S.S./C.M.V.S.S. certification label. The GVW equals the combined weight of the unloaded ve ...
Vehicle phonebook
This vehicle has two phonebooks available for your use. Depending on your phone, the system may automatically download your entire cell phone's phonebook into the "Handset Phonebook". Fo ...
Handset phonebook
Many phones will support an automatic download of the cellular phone's phonebook. Since this method allows for up to 1000 numbers to be stored and entries are automatically assigned voice tags b ...